CFA Newsletter: January 2023
Posted on January 9, 2023
The Article
Hey Team!
2022 was such a great year, especially capping it all off with the Winter Woderland competition in December!
Thank you for all you do. We appreciate every single one of you in this community.
We're looking forward to more fun in 2023!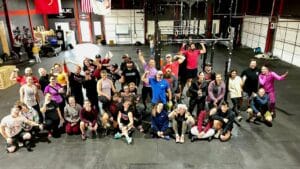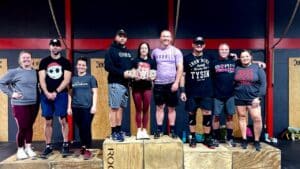 ---
December Wins: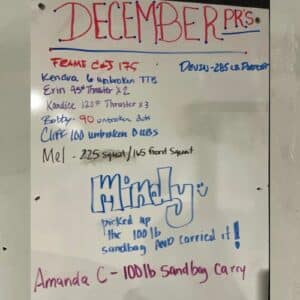 We also added Jessie Gonzalez as CFA's newest coach in December! She's the first coach to go through our coach development program and we are SO PUMPED to have her coaching at CFA!
Congratulations to Joely & Shelden on their marriage!
---
Upcoming:
–Programming Notes: We're moving closer toward the CrossFit Open, so you'll see more open style movements and workouts. I know, I know… wall walks, wall balls, burpees, and thrusters… puke!
–Friday Night Lights is coming back when the weather heats up.
–Jake Frame is working his way through our coach development program. Expect to see him in your classes shadowing and coaching!
–THE CROSSFIT OPEN AT CFA:
Every Friday night during the 3 weeks of the CrossFit Open (February 16 – March 6), we'll have some fun and get together for the workout…. and prizes! Each workout we'll run heats so it'll be very similar to the Winter Woderland! — DON'T STRESS IT! These workouts are scalable, just like class or Winter Woderland!
–If you want to officially sign up for the worldwide CrossFit Open, you can sign up HERE – it's not mandatory to sign up online to perform the workout. The benefit of signing up is to track your progress on the CrossFit worldwide leaderboard. It's a way for you to look back at your progress for years to come.
---
Coach Notes:
There are a lot of people this time of year setting new year goals… and the truth is, there's nothing wrong with that.
But, there's a way to bulletproof your goals to stick with it. To make it feel a little less overwhelming when it gets tough.
Think about this.
If you're going on a road trip to a place you've never been, the first thing we do is pull out the GPS.
We type it in the GPS, check the endpoint, and follow the voice commands.
It's a process so simple to follow, we release the stress of "getting there" and just follow the step by step voice commands.
Your new year goals are the same.
If you know the endpoint, your goal, we just reverse engineer the "directions" to get to that endpoint.
We customize a process (routine) that works like a turn-by-turn navigation to get toward your goal.
Follow X and you get Y.
It becomes a matter following the sustainable routine that accomplishes the goal.
If your goal is to lose weight this year, here's an example of a breakdown:
The Goal –>
Lose XX pounds of bodyweight
The Routine –>
A) Structure each meal similarly and simply for consistency: Prioritize protein at meals with a vegetable on the side.
B) Hit the gym daily at the exact time that's sustainable for your lifestyle.
Focus on executing the routine and the goal will take care of itself.
It's the simple stuff that's effective.
---
Birthday Shout Outs:
Jamie Mannin 1/8
DeEllen Rauscher 1/8
Mike Bradford 1/10
Paul Edwards 1/12
Haley Sparks 1/15
Chase Young 1/15
Kendra Hanson 1/18
Natalia Yazzie 1/19
Oscar Mexicano 1/26
Amie Quinonez 1/30
Kyla Bradford 1/31
*If we missed ya, send us an email and we'll update the system!
---
We're here for each and every one of you, so if you need anything at all, please reach out.
-The CFA Staff-
Catch up with more announcements and stay up to date by following our socials: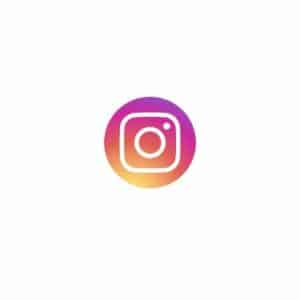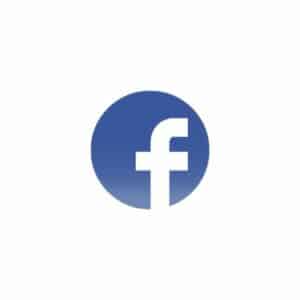 PS:
Please leave us a google review HERE if you feel we did a good job at CFA.
We're on a mission to improve the lives of others through fitness and we hope to give you a great experience.
Please share your experience on a google review if you have a good story at CFA!
View All Updates